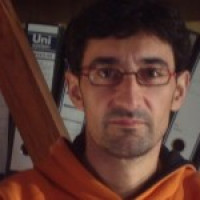 Xosé Ramón Veiga Alonso
Lecturer
curriculum
ORCID: 0000-0003-0775-2582
Xosé Ramón Veiga Alonso (1968) is a doctor of History from the Universidade de Santiago de Compostela. He earned an outstanding performance award (1998) with his doctoral thesis O conde de Pallares e o seu tempo, 1828-1908: Política, ferrocarrís e agrarismo en Galiza ('The Count of Pallares and his time, 1928-1908: Politics, railways and agrarianism in Galicia'), directed by professor Xosé Ramón Barreiro Fernández. He currently teaches at the Escola de Maxisterio (Teacher Training School) in Lugo, and is a lecturer at the Department of Contemporary and American History of the USC.
His lines of research are political history and agrarian history.
His main publications include the following: (2008): "Las razones de la representación política, 1810-1854", in NICOLÁS, E. e GONZÁLEZ, C. (eds.), Ayeres en discusión. Temas clave de Historia Contemporánea hoy, Murcia, Universidad de Murcia; (2008): "As familias políticas no liberalismo decimonónico español, 1808-1868", in BARREIRO FERNÁNDEZ, X.R. (coord.), O liberalismo nos seus contextos. Un estado da cuestión, Santiago de Compostela, Universidade-Cátedra Juana de Vega, pp. 141-164; (2008): "Historia política y comparación: las elites en Italia y España, 1850-1922", en ZURITA, R. and CAMURRI, R. (eds.), Las elites en Italia y en España, 1850-1922, Valencia, PUV, pp. 245-256; (2008): "Galiza e a súa presenza nos primeiros diarios galegos", en LÓPEZ GARCÍA, X and ANEIROS DÍAZ, R. (coord.), Primeiros diarios galegos (1808-1809), Santiago de Compostela, Consello da Cultura Galega, pp. 55-71; (2009): "Revolución en las urnas y cultura política liberal: Galicia, 1766-1814", en DIEGO, E. de (dir.) y MARTÍNEZ SANZ, J.L. (coord.), El comienzo de la Guerra de la Independencia. Congreso Internacional del Bicentenario, Madrid, Actas; (2009): "Elites en la Europa meridional", Ayer 75, pp. 327-338; (2011): "Historia y política: entre "epifenómeno de la estructura" y "lugar de gestión de la sociedad global", o la solución galaica de "autonomía relativa", in Revaluaciones. Historias locales y miradas globales, Institución Fernando el Católico, Zaragoza, Universidad de Zaragoza.
messages.latest-publications