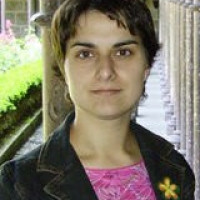 Ana Cabana Iglesia
Lecturer
curriculum
ORCID:0000-0002-5316-2631
Ana Cabana Iglesia (Castro de Rei, Lugo) is a Doctor of History from the University of Santiago de Compostela (Extraordinary Doctorate Award, 2006) and since 2003 she has been a teacher in the Department of History at the Lugo Campus of USC.

He has completed stays at various research centers such as the Universidade Nova de Lisboa, the Cañada Blanch Center for Contemporary Spanish Studies (The London School of Economics and Political Science (London), the Autonomous University of Madrid and the Pablo de Olavide University of Seville.

His priority lines of research are the study of social attitudes during the Franco dictatorship and rural conflict during Francoism and the transition to democracy. She has also made contributions in the field of the study of the commons and, recently, on the gender perspective applied to rural society.

Author of the Pedro Murias monographs. Tabaqueiro na Habana, Indiano na Devesa (Xunta de Galicia, 2001), Xente de Orde. Or consentemento cara o franquismo en Galicia (3C3 Ed., 2009) and The defeat of the epic (Presses da Universitat de Valencia, 2013) and coordinator of the Dossiers "James C. Scoot and the art of the dominated", Social History, 28 (2013), together with Miguel Cabo Villaverde, and "Campesinas: gender inequalities and invisible economies in the 20th century", Arenal. Magazine Of Women's History, 25 (2018), together with Teresa María Ortega López. His most recent publications include: "Almost everything was black: resistance and vanishing points around illegal mineral trafficking. Galicia (1939-1945) ", Cahiers de Civilization Espagnole Contemporaine, 18 (2017); "A fleeting glance before the mirror: the study of social attitudes during Francoism", in Ortiz Heras, M. (coord.), What do we know about Francoism? Studies to understand the Franco dictatorship, Granada: Comares, (2018), pp. 69-94; "In feminine plural. The gender perspective in rural history ", Soto Fernández, D .; Lana Berasain, J.M. (ed), From the past to the future as a problem. The contemporary Spanish agrarian history in the XXI century, Zaragoza, SEHA & Presses Universidad de Zaragoza, 2018, pp. 189-208; "The forest fires and a gender variable: stereotypes of round trip" VVAA, Arbores que non arden. As mulleres na prevention of forest fires, Vigo, Catroventos Editora, 2018, pp. 15-28 ,"Transiting the transition: rural world and democratic culture", in Quirosa-Cheyrouze Muñoz, R; Martos Contreras, E. (ed.), The Transition from another perspective. Democratization and the rural world, Madrid, Sílex, 2019, pp. 149-168 or "Haberlas, haylas". Las campesinas en la historia de España del siglo XX, Granada, Comares, 2021.
messages.latest-publications
Ana Cabana Iglesia, Alba Díaz Geada, Uxía Otero González