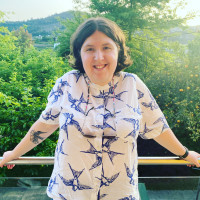 Noelia Valiño Vázquez
Pre-doctoral contract Campus Terra
curriculum
ORCID: 0000-0003-3677-2873
Noelia Valiño Vázquez (Boente, Arzúa, 1996), has a degree in History (2018) and a Master's degree in Cultural Services (2021). Her TFM titled: "Primary Education in Galicia: from the Pedagogical Missions of the Second Republic to the National Catholicism of the First Francoism" received a Linguistic Quality Award from the USC Linguistic Normalization Service. During the completion of the Master she was the beneficiary of a Collaboration Scholarship, developing in the Department of History of the USC the project entitled: "The Galician rural through the eyes of her teachers (1940-1970)".
She is currently a predoctoral researcher in "Campus Terra" the Doctoral Program in Contemporary History at USC. In her thesis, she addresses the use of the asylum in Francoist Galicia as a space in which to confine all those people relegated to the margins in the dictatorial society due to their ideology, homosexuality, behavior, etc.
Since September 2022, she has been the beneficiary of a Research Scholarship from the Provincial Council of A Coruña to carry out the project: "A look at the Francoist repression in the province of A Coruña from the Conxo asylum (1939-1959)", a fundamental part of his doctoral thesis.