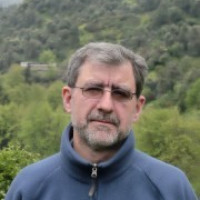 Eduardo Rico Boquete
Lecturer
curriculum
ORCID: 0000-0002-5274-5157
Eduardo Rico Boquete (1962) became a doctor of History from the Universidade de Santiago de Compostela (1995) with the thesis A riqueza forestal de Galicia no século XX: producción e explotación ('Galicia's forest wealth in the 20th century: Production and exploitation'), directed by professor Ramón Villares Paz.
His lines of research are agrarian history, the timber industry, forest policy, Francoism and autarky.
Entre as súas publicacións destacan:
"Las repoblaciones del Patrimonio Forestal del Estado y del ICONA en la provincia de Badajoz, 1941-1977", Historia Agraria, 46: 91-124, 2008; "Repoblación forestal y sustitución de especies en los montes de utilidad pública de la provincia de Soria, 1940-1975". Ager, 7, 77-108, 2008; "La Administración forestal y la expansión del eucalipto por Andalucía Occidental, 1900-1983", en Repoblación forestal en Andalucía: intervenciones
históricas y situación actual, Araque Jiménez, E. y Sánchez Domínguez, J.D. (editores). 123-164, 2009, Jaén, Universidad de Jaén; La formación de los catálogos de montes protectores en España, 1908-1936 en MANGAS NAVAS, J.M.; RICO BOQUETE, E.: La política de montes protectores en España (1908-1936). Madrid, Ministerio de Agricultura, Alimentación y Medio Ambiente. Secretaría General Técnica. Centro de Publicaciones 2013, pp. 71-218.
messages.latest-publications