New publication of the HISTAGRA Group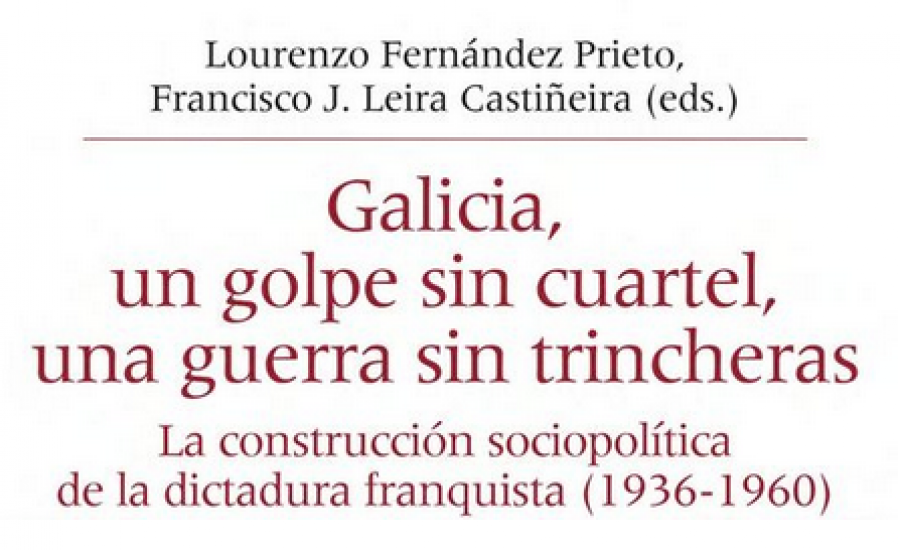 New publication: Galicia, un golpe sin cuartel, una guerra sin trincheras. The socio-political construction of the Franco dictatorship (1936-1960).
HISTAGRA, through the PI Lourenzo Fernández Prieto and the external collaborator and former doctoral student of the group, Francisco J. Leira Castiñeira, coordinates the publication of the study, Galicia, un golpe sin cuartel, una guerra sin trincheras. La construcción sociopolítica de la dictadura franquista (1936-1960), published by the publishing house of the Universitat de València and in which members of the group write, as well as external collaborators and doctoral students trained in recent years.
The aim of this work is to introduce Galicia into the historiographical debate on the socio-political and institutional construction of Franco's regime. It analyses the coup d'état, the civil plot, male social mobilisation (military recruitment and fascist militias) and female social mobilisation, the role of women, prostitution, housing policy, etc. It shows what it meant for civil society, which was much more socially and politically active (both in the countryside and in the city) than it was thought to be in Galicia.
Although the title may suggest it, this is not a book about the history of Galicia. It is a book made from Galicia that deals with a violent way of seizing power to overthrow a multi-party democracy in Europe in the 1930s and that analyses how the trial room of a totalitarian dictatorship that was consolidated in times of fascism worked. As Francoism was the only dictatorial regime to emerge from the ashes of a total war, framing these singularities in the processes of its time and contextualising them is fundamental to aspire to a broader study. Behind the coup, it could be said that there was much more military action than political reaction, given the limited social weight it had. But military action required the construction of a political project which, as the coup d'état dragged on and turned into war, could no longer be the one specified in Mola's Instructions and his unspecified republican dictatorship. This evolution was reflected in the territories that first fell into the hands of the coup plotters. Without understanding how it developed in these territories, we cannot understand the logic of the dictatorship imposed on the rest of Spain. A choral work that aims to provide a new perspective on the construction of Francoism from its origin - the coup d'état - and which includes the territories that fell into the hands of the coup plotters in July 1936, which were very often overlooked in historiographical analysis.
More information:
https://histagra.usc.es/eres/publicacions