Rubiáns (Vilagarcía) mass grave exhumation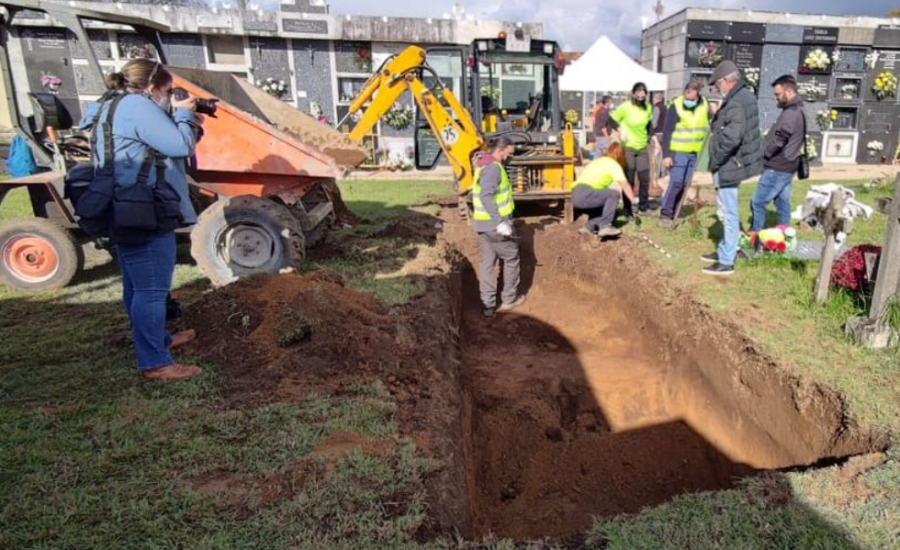 Exhumation of the common grave in the Rubiáns cemetery (Vilagarcía de Arousa)
Today, Wednesday, November 3, the process of excavating the common grave in the Rubiáns cemetery (Vilagarcía de Arousa) began, which aims to find and identify the remains of 18 people who are victims of the violence unleashed after the coup d'état July 1936. The HISTAGRA group, coordinated by the professor of Contemporary History Lourenzo Fernández Prieto, and the SÍNCRISIS group collaborate in the different tasks to be carried out, of which Professor José Carlos Sánchez Pardo is a part as coordinator of the team of archaeologists. ; The work team is completed by the forensic anthropologist, Fernando Serrulla, from IMELGA, and the team of the geneticist Ánxel Carracedo, who will take care of the genetic comparison with those relatives of the murdered who wish to have it carried out. The archaeological works are carried out by Tempos Arqueologists.
The first works on the ground with the collaboration of the Vilagarcía de Arousa city council and its staff, in charge of the tasks to start the excavation; also with the previous work of the association O Faiado da Memoria for the recovery of the memory of the victims, maintaining contact with the families of the murdered, conducting a large number of interviews and dignifying the memory of the deceased.
After a first day in which the first tastings were carried out in the space of the common grave, the work will continue during the next days, waiting for the remains of the deceased to be found for identification, dignity and delivery to the families.
For any information, you can contact nudos at histagra@usc.es or by phone 686232856